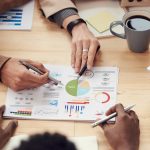 At Walter Canyon Consulting we provide dynamic solutions that drive lasting change.
Shifts in culture and technology continuously reshape how we do work —from the day-to-day tasks of teams and individuals to years-long programs and projects undertaken by governments and global businesses.
The shifts are subtle or gradual, other times they are sudden and dramatic. In either case, organizations must be ready to adapt structurally, culturally, and operationally—sometimes incrementally, sometimes through full-scale transformation.
Walter Canyon management consultants are design thinkers, strategic planners, organization designers, agile change managers, and process reengineers.
We assist leaders at cabinet-level agencies, non-profits, colleges and universities, and Fortune 500 companies craft and implement the creative, cross-functional, data-driven solutions you need to keep your organizations safe, secure, effective, and relevant in a changing world.
Walter Canyon Consulting wants to partner with you to devise more dynamic strategies, to drive operational efficiencies, and create the right conditions for innovation.
We have the expertise and experience to help guide and support your mission.