Walter Canyon Consulting will development custom training and workshops to fit your organizational needs.  Our director of workshop content and our professional presenters are leaders in the industry.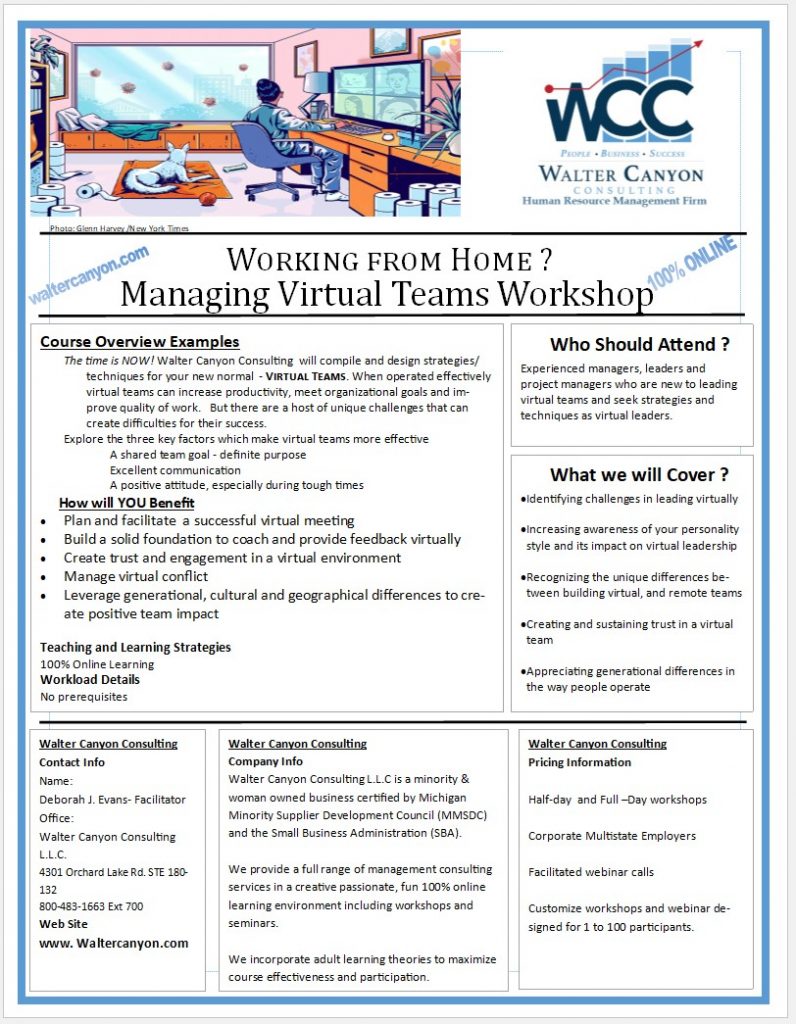 Workshop Examples
EEOC – Identifying Sexual Harassment
Walter Canyon Consulting will help your company identify and define unwelcomed Sexual Harassment. Be in front of the issue, not a part of the problem. The Equal Employment Opportunity Commission ("EEOC") has announced soon-to-be-released updates which will likely impact employers' efforts to prevent sexual harassment in the workplace. This will be the first time in more than 20 years that employers can expect to see updated sexual harassment guidelines from the EEOC.
Inclusion Readiness
We believe it is essential that every employee at every level from every ethnicity prepare not only for Diversity and Inclusion, but first prepare for Inclusion Readiness.
Inclusion Readiness is a component of inclusive practices including consistent, considered thought given to environments, resources and business plan to ensure readiness and the ability to be welcomed and welcoming to others.
Walter Canyon Consulting will design and implement training, allowing each employee to recognize a broad spectrum of emotional signals, and feel the unspoken emotions of other individuals or groups. Our training will
Identify and develop empathic leaders who can work with individuals from diverse personal and cultural backgrounds.
Develop informational take-aways to address self- and social awareness, and develop keen self-management
Introduce deliberate processes that assist self-awareness and manage emotional responses to prepare for self-management.
Diversity and Inclusion
At Walter Canyon Consulting our team designs and implements Diversity and Inclusion Training to establish the core understanding – Diversity and Inclusion is imperative to maintain a competitive business advantage.
Understanding and optimizing diversity and inclusion at all levels in your organization enhances productivity, effectiveness and increases the richness of cultivating ideas in the world and in the workforce. Walter Canyon Consulting designs and implement workshops, that guide tolerance to cultural differences, developing an appreciation that all human groups are important to business success.
Cultural Sensitivity and Awareness
At Walter Canyon Consulting we improve your company's cross-cultural competence and capacity through, cultural awareness and sensitivity training in addition to employee consultation. We believe that Cultural Sensitivity and Awareness must be supplemented with cultural knowledge that integrates and transforms individuals and groups of people. We set standards of congruent behaviors, attitudes, and design policies that come together in business systems, which enables your employees to work effectively in cross-cultural situations, with specific standards, policies, practices, and acceptable attitudes, respecting and appreciating cultural differences of race, color, religion, sex (including pregnancy, gender identity, and sexual orientation), national origin, age, disability or genetic information.
Conflict Resolution
At Walter Canyon Consulting we design and implement Conflict Resolution techniques to ensure more effective communication and conflict resolution processes for all levels of employees. In an increasingly global and diverse workplace, sometimes the heart of the problem is that people differ from each other in age, gender, ethnicity or personality type. Walter Canyon Consulting can implement a conflict resolution process, broken down into steps to simplify a successful process in your workplace where employees feel safe to disagree with one another and spur innovation, diversity of thought and better decision-making.
Communication Strategies
At Walter Canyon Consulting our training objective in communicating is to develop strategies that communicate effectively and efficiently, but not constantly taking time away from getting the organizations mission and goal accomplished. We design workshops that identify the plan, method and types of communications that incorporate thoughtful planning that will benefit the company later. The ability to communicate effectively with superiors, colleagues, and staff is essential, for all work environments. Workers in the digital age must know how to effectively convey and receive messages in person as well as via phone, email, and social media.
Team Building
At Walter Canyon Consulting we build training that identify employees' behavior in terms of both taskwork and teamwork. We identify superior team performance and suggest monitoring of important team dynamics. The concept of team building becomes critically important as work units become increasingly important. In most cases, team building involves relationships among peers with a wide diversity of expertise goals where energies of individual contributors' merge and support the objectives of the team.