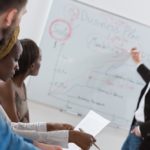 At Walter Canyon Consulting our team is adaptable to the size, complexity and needs of any organization. We will analyze your current organizational design step-by-step identifying dysfunctional aspects of work flow, procedures, structures and systems. We will develop modified methodologies and design plans to implement new changes to realign and fit current business realities/goals.
Our process focuses on improving both the technical and people side of the business which leads to a more effective organization design, significantly improved results (profitability, customer service, internal operations), and employees who are empowered and committed to the business. A well-designed organization ensures that the form of the organization matches its purpose or strategy, meets the challenges posed by business realities and significantly increases the likelihood that the collective efforts of people will be successful.
The design process consists of the following steps…
1) Charter the design process
2) Assess the current state of the business
3) Design the new organization
4) Implement the design
5) Success!